Archive for the 'Fallout 3' Category
Well, it has been almost a year since I've made a post. In that time I've made only three videos, two which got banged with a copy write problem. I guess I'll have to work on that.
Anyways, I haven't made a video in a very long time. I've got three new videos planned for release. My first one is a Mount and Blade video showing possibly a tactical battle of some sort.
My second one will be a Stronghold 2 video of me making Croatia which I am looking forward to doing. I'm working with GreatDictator on this one, so you will know it will be great!
Finally will be a counterstrike video. I created a CSS clan with a bunch of friends one day, and they want to have a clan video. I'm the P90 Head Shot Expert for the clan, so I'm making a video of myself getting p90 kills.
Now then, here's the video that didn't get in any problems. It's a Fallout 3 video. I got Fallout 3 on Christmas, and have been hooked for a very long time. Love the game to this day, one of my favorites. The video is all in VATS, which is a cinematic mode, so it should look pretty sweet regardless of if you've played or not. Enjoy!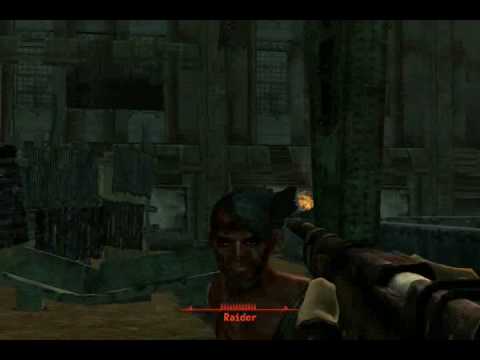 Well everything is FINE and dandy in vault 101 the game starts …with what has to be the youngest starting age so far in any RPG it starts you off at BIRTH so thats quite suprise the first time you play through it .Then you have quite a nifty selection of beards,hair styles and lots of other things I didn't capture them all,but am sure that everyone thats watching this now probably already saw this somewhere else , but anyways the game is huge has a good story and above all has good gameplay so lets start with the story.
Basically put without spoiling the story you were literally born and raised in vault 101 starting from your birth till you 10 years old through the infamous GOAT test till the day that your father escapes the vault …and ill say it right now the game has 4 ending …not 400 .While your in the vault the game cleverly introduces the you to the games basic mehanics such as use of the VATS system and you create your characters look as soon as your born .You will also have a birthday party when your 10 .
Well once you exited the vault you get your first glance at the Capital wasteland where many dangers await…but first lets go to Megaton the first town that you'll probably either save or destroy
depending on which path of karma you'll choose ,the game has one of the best and is among the best of games that have a very good morale system, for those of you who have played Oblivion the games talk system might seem familiar except for the different look but still its nice…although I wish that they would have give your character a voice though ,since its kinda hard to imagine what tone of voice and all your character is using while you talk .But anyways if you have a high enough speech skill or a perk sometimes it opens unique dialog options.
No matter what you heard Fallout 3 is not a shooter it has a FPS perspective but you can go to a 3rd person perspective but its only recommended if you wanna check out your characters gear , the game offers a lot of exploring and a lot of stuff to collect such as bobble heads ,find secret areas such as the Bethased studios building , schematics for self built weapons and perhaps and an old favorite for the fans …Hermin…or was it Herbert …well anyways its an old character from the previous games hes a Ghoul that grew a tree out of his head and now it grew big enough to have a nice little sanctuary of green in that barren brown wasteland .
The games world moves in real time so its always different in one place of the world you might encounter an encounter between super mutants and some Talon company mercenary's or your in danger and are being attacked and you run into a caravan on their way to the next town and they save your life …no matter where you are theres always a chance of something else happening on the other side of the area or in the middle of D.C . The game has a HUGE list of places you can visit sometimes you will wonder maybe they should have put a bit less environments since most of them have multiple places to explore within them you will always wonder whats there and whats there especially if your like me and search every little square of these places for First aid kits if your like me to cheap to pay for new stimpaks .
You can even break into houses too see if anythings available there,such as guns or books…now books are one way to increase your skills during your play time ,the game also has a rather fun way of both hacking terminals and lock picking.
Now onto the combat part of the gameplay well that and perks, perk enable you some special attributes or powers or add extra point to your stats …but you will grow fond of some more use full ones such as my favorite the mysterious stranger perk which if your lucky every time you use the VATS system you will have your guardian angel kick some ass .
The real time combat is somewhat more difficult and is mostly used when the player doesn't have anymore action points to spend to use the VATS system…in the end you will find yourself using the system the most especially if you have the Bloody mess perk which for some strange reason no matter where you shoot your enemy's they will fall apart completely most of the time but it's still sweet to watch that cinematic camera zoom in on your face before you blow off your enemy's head in glorious slow motion.
The music in this game…well I cant say anything more but the radio station music has some pretty sweet tunes and old classic's such as I don't want to set the world on fire and some more and if you like such songs then theres several more that am sure you'll enjoy as well ,you will find lots of different other stations ,such as a Chinese army or liberation station or whatever , later on after you complete a quest one that has you retrive an violin from an old lady and my favorite Galaxy news radio which a pretty cool DJ which gives you updates on the things you have been doing and calling you whatever title your karma level has given you …although by the time he finally reports one of your latest deed's you will most probably have done 2 or 3 others.
The graphics are up to todays standard's and deliver a great atmosphere of atomic bombs hitting the 1950′s futuristic America …even though they could have made less debris in the streets its seriously annoying trying to find the right subway tunnel. And just for a side note this series was originally a 2D game .
If you have an house or an apartment you can spice them up with one of several themes such as wasteland explorer ,laboratory,vault,raider ,LOVE MACHINE …or something like that and my personal favorite the pre-war theme you'll also get several different things like a book for your stats or stimpacks and food,your house or apartment will also be where you put your bobbleheads which add to your attributes or skills , oh and if you want to keep your beloved dogmeat safe you can put him in your house or apartments since sadly he cannot be revived. And just on a quick side note … I never really saw exactly why radiation is damageing never did much to me.
My only major annoyance is that unlike the previous 2 to 3 games this one doesn't have animated endings which is sad since the games intro pretty much shows that it probably would have been sweet.
Overall if you liked or loved the previous 2 Fallout games then you shouldn't be disappointed by this one even though I haven't played the previous 2 am pretty much sure that this is a bigger ,richer and above all more bloodier game then the previous 2 , even if your a hardened explorer or recently got out of a vault yourself you'll love the wastelands of DC .
Fallout 3 for the PC. Pretty much my on going walk through/adventure into this game. Its a pretty good game, a little buggy at points but over all pretty solid.